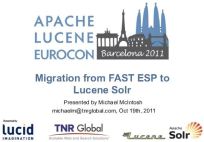 TNR Global presented at the Apache Lucene Eurocon in Barcelona, Spain. Michael McIntosh, VP of Enterprise Search Technologies, spoke on the migration from Microsoft FAST ESP to Lucene/Solr open source search.
View the presentation
Migration from Microsoft FAST to Apache Lucene Solr
.
Our White Paper on Microsoft FAST ESP to Lucene/Solr will be released in January, 2012.  To receive your free White Paper, email contact information to fast2solr@tnrglobal.com or subscribe here to receive the White Paper and our newsletter on FAST to Lucene Solr Migration.